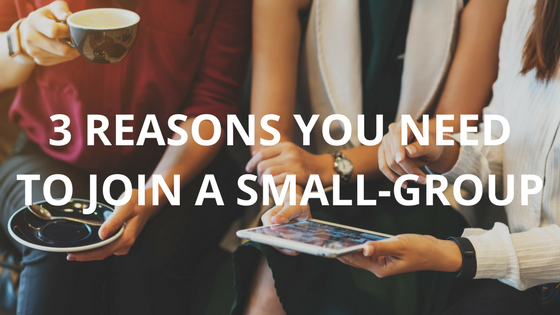 Last year, I joined an adult small group using the study The Wild Goose – and for the first time since I could remember, I wasn't the leader. For the first time in years, I had joined a ministry or group that I wasn't in charge of, and it was one of the most fruitful decisions of my ministry.
As parish leaders, we end up behind the scenes a lot. We coordinate meetings and schedules, write announcements in the bulletin, print endless handouts, and lead (sometimes enjoyable, sometimes excruciating, and always, thanks to God's grace, fruitful) Bible studies. But too often, we neglect our own community life in order to support others.
When I took a seat at the round table of my first small-group study in years and sat back while God worked in my heart to respond rather than to lead, I discovered he was making me a better leader through it all. Here are the top three reasons that we, as parish leaders, need to be part of small group communities ourselves.
1. You're free to learn. 
When you're personally participating in a small group, you can learn new ways to lead without pride getting in the way. You get to see best practices of other leaders in action, unimpeded by your own routines and limitations.
When I joined an adult small group last year, I really admired my leader Kate's honesty. We trusted her, so she constantly challenged us to be honest and open about our struggles as we talked, and this completely changed the dynamic of our small group. Thanks to Kate's example, I'm now committed to witnessing to the importance of honesty in every small group that I lead.
2. You get to watch God work first-hand. 
When you're stuck behind a desk for half of the week, you hear about ways that people's lives have been changed by their relationships, communities, and small groups, but you rarely get to watch it happen first-hand. There is nothing more encouraging than being there with people that you love as God works in their hearts and growing alongside them for weeks on end.
3. You learn that God wants to love you more than He wants to use you. 
I have a colleague that always used to say that phrase: "God wants to love you more than he wants to use you." When I first heard this, I was slightly offended. Does that mean that God doesn't want to use me? He gave me a unique and particular mission in the world, and I've always drawn great strength and inspiration from that fact, so what about that? But as I thought about it, I began to understand that, more than anything, God wants me to be holy, healed, and filled with the Holy Spirit. If I'm constantly pouring myself out without being sustained and nourished by the endless love of the Lord, I run the risk of emptying out and giving those I am serving merely myself rather than the one they need, our Lord.
Community is a necessary pillar in the Christian life, so if we are not growing in our experience of authentic, honest community life as ministry leaders, we're neglecting a key area in which God wants to work in our lives. "Without Him, you can do nothing," and this is one way that He desires to work in us (John 15).
When I got off my ministry high horse, joined a small group, and let God teach me through my community, I got more than I bargained for, and it was one of the best decisions I've made. Small group community, accountability, and mentoring aren't just for us to do, they're for us.